Course Category: Specialty Course | Education
Click here to view a short segment of this course: Class Sample

Course Code: EDU 101
Instructor: Ustadha Safiyyah Salaam
Length: 1 term (15 weeks)
Course Dates: September 10 - December 17, 2018
Timings: Mondays, 9:15 pm CST/ 3:15 am GMT Click here to convert to your own time zone.
Classes last approximately 1.5 hours each. Live attendance is not required but recommended whenever possible. Recordings of the sessions will be made available for registered students who cannot attend live.
Offered: This course is offered in the Fall Term of each year.
Prerequisites: 
Students should be women above the age of 17.
Successful completion of at least one Level 1 Ribaat course.
Summary: This introductory level course provides aspiring and veteran teachers opportunities to learn and practice effective teaching strategies for elementary-aged students enrolled in Islamic Studies programs.  During this course we will examine components of skillful teaching including lesson planning, classroom management, instructional strategies, assessment, professionalism, motivation, and upbringing within an Islamic framework. By the end of the course, students will be expected to plan, teach, and assess a sample lesson plan to accommodate elementary-aged Muslim students and complete a research paper on an effective instructional strategy.
Course Requirements: Students are expected to attend the weekly online lectures, read the assigned material, write a lesson plan and deliver a live lesson, and review and sit for a mid-term and a final exam.
Text: 101 "Answers" for New Teachers and Their Mentors (Second Edition) by Annette L. Breaux and selected readings.
Students are responsible for ordering their textbooks before the start of class. Ribaat textbooks are available to enrolled students at a discounted rate through Daybreak Press Global Bookshop. Once enrolled, students will have access to the discount code through the course forum.
For inquiries, contact registration@rabata.org
Registration Fees: Non-refundable, non-transferable
$100.00 (not including the cost of the course materials)

$20.00 late registration fee after September 5th (if seats are available)

$5.00 auditing fee.

Special group rate: Islamic schools and masjids can register four teachers for $300.00. Email

registration@rabata.org

for details.
المدرّسة: الآنسة رغد بشناق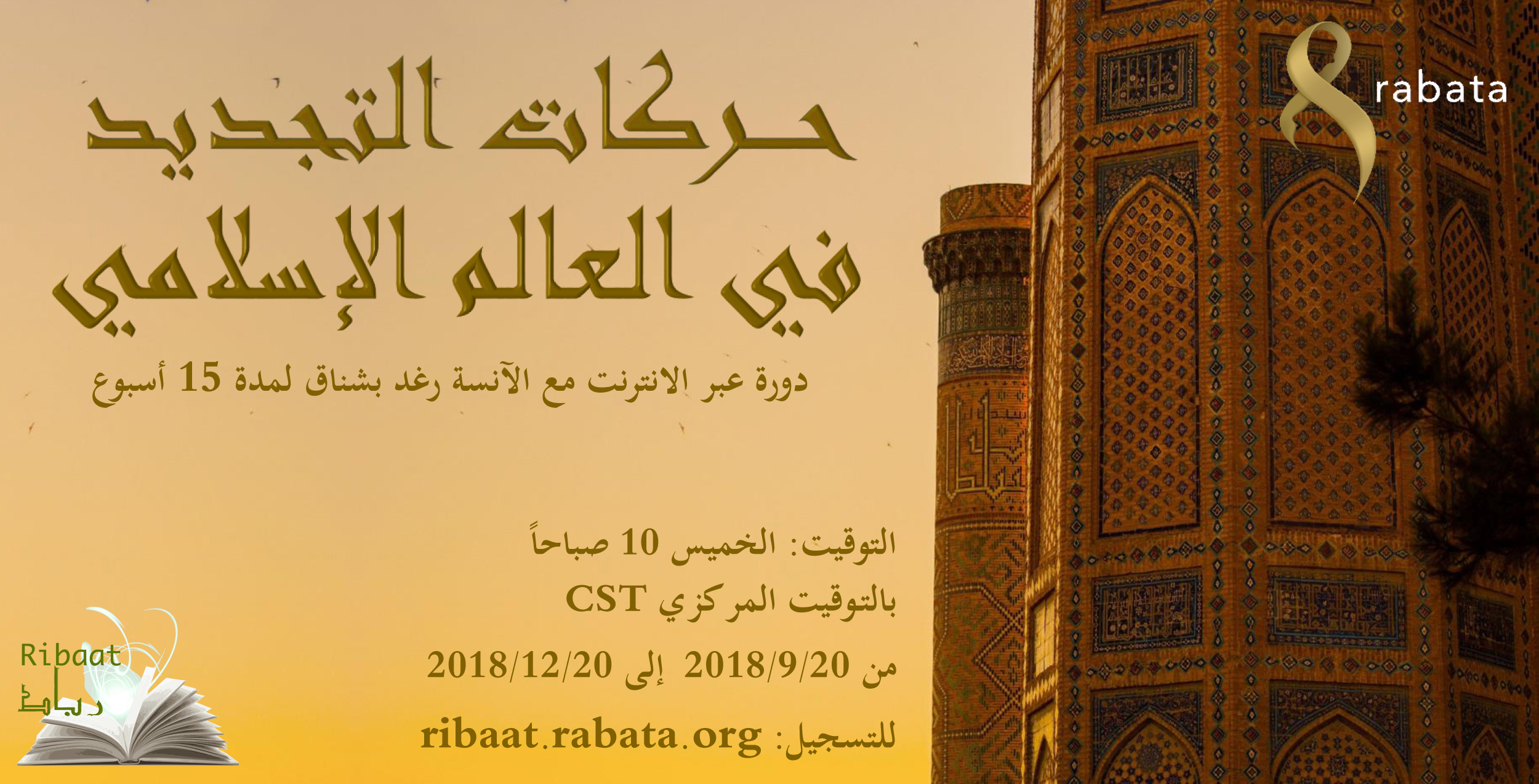 فئة المادة: العلوم الشرعية - المستوى الثاني
رمز المادة:

 
HIS 201A
الفصل: خريف 2018
 المدة: فصل دراسي واحد (15 أسبوع)
التواريخ: 9/13 - 12/20 , 2018
توقيت الحصص: الخميس 10،00 صباحاَ بالتوقيت المركزي CST و4،00 مساء بتوقيت غرينيتش GMT
وصف المادة:

دراسة للأزمات والفتن التي مرّت على العالم الإسلامي عبر العقود، مع دراسة مفصّلة لمجدّدي هذ الدين الذين اختارهم الله تعالى لإيجاد الحلول وإصلاح الأمة وكيف تمكّنوا من تغيير الأوضاع وتجديد الدين وإعادة السكينة والإيمان للأمة. ستدرس الطالبات العوامل التي أدّت إلى كل فتنة وكيف استطاع كل مجدد أن يتغلّب على الفتنة التي سادت في زمنه وإيجاد حلول لتلك المشاكل، وستتعرف الطالبات على الصفات التي مكّنت أولئك المجددين من النجاح في التغلب على تلك الأزمات.

متطلّبات المادة:

مطلوب من الطالبات حضور الحصص الأسبوعية التي تبثّ مباشرة عبر الانترنت، إنجاز واجباّ أسبوعياً أو أكثر حسب طلب المدرّسة، قراءة الصفحات المطلوبة قبل الحصة، كتابة مقالة تحليلية حول إحدى الشخصيات في الكتاب، وتقديم امتحاناَ نهائياَ.
رسم التسجيل: غير قابل للاسترجاع وغير قابل للتبديل

100.00 دولار أمريكي (عدا ثمن الكتاب)
 الكتاب: رجال الفكر والدعوة في الإسلام، أبو الحسن علي الحسني الندوي
الطالبات مسؤولات عن توفير الكتب قبل بدء المادة. يمكن شراء الكتب الخاصة برباط عبر موقع Daybreak Press Global Bookshop، وتحصل طالبات رِباط على خصم خاص عند شراء كتب رِباط.
والكتاب موجود علو موقع المكتبة الوقفية www.waqfeya.com
لأي استفسار يمكن التواصل مع:  registration@rabata.org