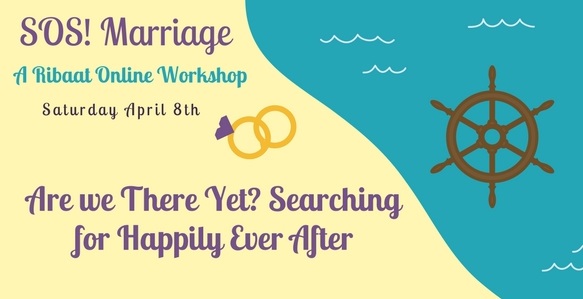 SOS Marriage!
A Ribaat Online Workshop
Enrollment Requirements: 

Description:
This full-day, online workshop provides viewers with tips, advice and support for starting and upholding an Islamic marriage in today's world. 

Join us as we learn from the experts how to deal with each issue, from choosing a spouse and maintaining a healthy relationship to dealing with the tough issues. 

Register now for a full day of learning, growth, and education!
Click here for more details About the Instructors.
Session Schedule:
Opening with Anse Tamara Gray
Finding a Husband & Newlywed Life: Anse Rydanah Dahman, Sister Safiyyah Salaam, Sister Andrea Cluck
- Navigating the Process 
- Determining Compatibility 
- Relationship Advice 
- Reviewing Available Resources 
Intimacy: Anse Tamara Gray, Dr. Rima Makhiawala, Sister Megan Wyatt
- Healthy Intimacy
- Family Planning 
- Pornography and Infidelity 
12:45-2:00 pm ~ Managing Happiness: Anse Marah Dahman, Ustadha Sana Mohiuddin, Sister Nuriddeen Knight
- Wife: Bringing Personal Happiness to Make Joint Happiness 
- Turning Conflict into a Hug 
- Romance, Love and the Stages of Married Life 
- Managing Home Life, Schedules, Finances and more!
Serious Issues: Dr. Zainab Alwani, Anse Maha Hamoui, Sister Sadia Jalali
- Domestic Violence 
- Mental Illness 
- Divorce 
Polygamy:  Sister Zainab Younus & Sister Olivia Kompier
- When it's Right
- When it's Not
- Personal Experiences
Blended & Joint Families: Sister Menahal Begawala, Sister Andrea Cluck, Sister Afshan Malik
- Step-families
- Joint Family Life & In-laws 
- Blended Families and Self-care 
Closing with Anse Tamara Gray


Registration fee: 
Registered students will have access to the forum and recordings of sessions until December 31st. 2017

For inquiries: email registration@rabata.org