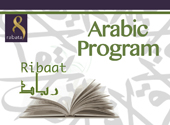 Course Code: ARA CT
Instructor: Anse Raghad al-Sayyid
Length: 6 sessions
Course Dates: July 4th - August 31st 
Timings: Days and times will be agreed upon based on the teacher's and student's mutual availability. *Live attendance is required for this course.*
Offered: This course is only offered this summer. Seats are limited and students enrolling late may be placed on a waiting list.
Prerequisites: 

Students should be women above the age of 17.
ARA 100 or equivalent knowledge
ARA Grammar Level 1A or equivalent knowledge.
Students enrolling in this course should have a cursory knowledge of the names, shapes and sounds of Arabic letters, as well as the ability to read and write the Arabic script. Some understanding of grammar and vocabulary will be needed in this course.
Summary: The Conversation track utilizes the al-ʿArabiyya li-l-Nāshiʾīn curriculum, building speaking and conversation skills from the beginner up to the more advanced level through interactive classes which allow students to participate in real time. The curriculum covers everyday conversation topics and integrates listening, comprehension, and writing skills, gradually increasing vocabulary as students progress through the program. Recorded lessons included in the curriculum offer an alternative to traveling to Arabic-speaking countries to put listening and conversation skills into practice. In addition to these recorded lessons and the textbook, in-class practice allows students to apply these skills with the instructor and classmates.
Course Requirements:  Students are expected to attend the live sessions, complete assignments as assigned by the instructor, read the assigned material, and review and sit for a final exam.
Registration Fee: Non-refundable, non-transferable
$100.00 (not including the cost of the course materials)
Texts: Al-ʿArabiyya li-l-Nāshiʾīn, Student Book (PDF version)
Students are responsible for ordering their textbooks before the start of class. Ribaat textbooks are available through Daybreak Press Global Bookshop.
Placement: Each student's level will be assigned after the first session. 
For inquiries, contact registration@rabata.org