Islamic Sciences ~ Level 1 Core Course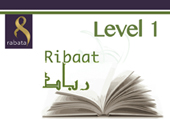 View a short segment of this course: Class Sample
Course Code: SIR 101
Instructor: Anse Tamara Gray
Length: 1 term (15 weeks)
Course Dates: Sept. 11 - Dec. 18, 2017
Timings: Mondays, 9:00 pm CST/3:00 am GMT Click here to convert to your own time zone.
Classes last approximately 1.5 hours each. Live attendance is not required but recommended whenever possible. Recordings of the sessions will be made available for registered students who cannot attend live.
Offered: Part 1 of this course is offered in the Fall term of each year, and Part 2 is offered in the Spring. Completion of Part 1 is recommended but not required to enroll in Part 2.
Prerequisites: Students should be women above the age of 17.

Summary: An in-depth study of the lives of thirty companions discussed in the book Stars in the Prophet's Orbit. Students will learn their stories, draw conclusions about Islamic precepts from their lives, understand their relationship to the Prophet (s) and derive personal lessons from their lives.
The first thirty companions of this text are covered in Part 1 of the course, and the second thirty are covered in Part 2.
Course Requirements: Students are expected to attend the weekly online lectures, complete one or more weekly assignments, read the assigned material, write one critical analysis paper, and review and sit for a final exam.
Registration Fee: Non-refundable, non-transferable
$100.00 (not including the cost of the course materials)
$20.00 late registration fee after September 10th (if seats are available)
Text: Stars in the Prophet's Orbit by Asmāʾ al Tabbāʿ
Students are responsible for ordering their textbooks before the start of class. Ribaat textbooks are available to enrolled students at a discounted rate through Daybreak Press Global Bookshop. Once enrolled, students will have access to the discount code through the course forum.
For inquiries, contact registration@rabata.org