Islamic Sciences ~ Level 1 Elective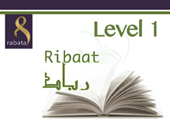 View a short segment of this instructor: Class Sample
Course Code: 
ELE 103
Instructor: Anse Najiyah Maxfield
Length: 1 term (15 weeks)
Course Dates: Sept. 13 - Dec. 20, 2017
Timings: Wednesdays, 6:00 pm CST/12:00 am GMT Click here to convert to your own time zone.
Classes last approximately 1.5 hours each. Live attendance is not required but highly recommended for this course. Recordings of the sessions will be made available for registered students who cannot attend live.
Offered: This course is offered in the Fall term of each year.
Prerequisites: Students should be women above the age of 17.
Summary: This course has two main goals. It is designed to help students become comfortable giving daʿwa in any situation - from intimate gatherings to public addresses to chatting with people on the street. It also provides students with ideas and experience in hosting outreach events in their own communities. Assignments will consist of communication exercises, and the final will be to plan and hold a daʿwa event, at which the student will speak.
Course Requirements: Students are expected to attend the weekly online lectures, complete one or more weekly assignments, read the assigned material, and host and speak at a daʿwa event.
Registration Fee: Non-refundable, non-transferable
$100.00 (not including the cost of the course materials)
$20.00 late registration fee after September 10th (if seats are available)
Text: TBD
Students will receive an email with the names of required reading materials before the start of the course.
Students are responsible for ordering their textbooks before the start of class. Ribaat textbooks are available to enrolled students at a discounted rate through Daybreak Press Global Bookshop. Once enrolled, students will have access to the discount code through the course forum.
For inquiries, contact registration@rabata.org