Islamic Sciences ~ Level 2 Core Course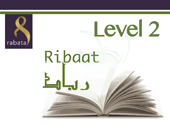 View a short segment of this course: Class Sample
Course Code: AQD 201
Instructor: Anse Tamara Gray
Length: 1 term (15 weeks)
Course Dates: Sept. 11 - Dec. 18, 2017
Timings: Mondays, 7:00 pm CST/1:00 am GMT Click here to convert to your own time zone.
Classes last approximately 1.5 hours each. Live attendance is not required but recommended whenever possible. Recordings of the sessions will be made available for registered students who cannot attend live.
Offered: This course is offered every other year. Part 1 is offered in the Fall term, and Part 2 is offered in the Spring.
Prerequisites: 
Students should be women above the age of 17.

Successful completion of at least one Ribaat Level 1 core course

Summary: An intensive, Level 2 Ribaat course for advanced students, this course comprises an academic study of the tenets of Islamic belief, beginning with a study of the development of ʿilm al-kalām, a deep look into the meaning of tawḥīd (the Oneness of God), and a review of the messengers of Islam.
The development of ʿaqīda in the heart and mind of the believer is the development of her way of life and the ability to communicate and spread the joy of faith to those around her.
Course Requirements: Students are expected to attend the weekly online lectures, complete one or more weekly assignments and projects as assigned by the instructor, read the assigned material, write one critical analysis paper, and review and sit for a final exam.
Registration Fee: Non-refundable, non-transferable
$100.00 (not including the cost of the course materials)
$20.00 late registration fee after September 10th (if seats are available)
Texts: 
1.

Ahl al-Sunna the Asharis: The Testimony and Proofs of the Scholars

Shaykh Hamad al-Sinan and Shaykh Fawzi al-Anjari, translated by AbdulAziz Suraqa

2. The Islamic Concept of God 

Mohammad Zia Ullah

3.

Fate and Predestination 

Shaikh Mohammad M. Al-Sha'rawi
Students will receive an email with the required textbooks before the start of the class inshallah.
Students are responsible for ordering their textbooks before the start of class. Ribaat textbooks are available to enrolled students at a discounted rate through Daybreak Press Global Bookshop. Once enrolled, students will have access to the discount code through the course forum.
For inquiries, contact registration@rabata.org