Course Category: Arabic Level 1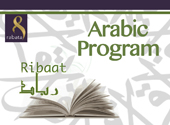 View a short segment of this level: Class Sample
Course Code: ARA G1A
Instructor: Anse Saimah Asghar
Length: 1 term (15 weeks)
Course Dates: Sept. 14 - Dec. 24, 2017 

Timings: Thursdays, 1:00 pm CST/6:00 pm GMT Click here to convert to your own time zone.
Classes last approximately 1.5 hours each. Live attendance is not required but recommended whenever possible. Recordings of the sessions will be made available for registered students who cannot attend live.
Offered: This course is offered in the Fall term of each year.
Prerequisites: ARA 100 or equivalent knowledge. Students enrolling in this course should have a cursory knowledge of the names, shapes and sounds of Arabic letters, as well as the ability to read and write the Arabic script. An understanding of grammar or any vocabulary is not a prerequisite for this stage.
Summary: 
The course is designed to equip students with knowledge of foundational grammar constructs to develop their reading, writing, speaking and listening skills in the Arabic language. This will enable them to begin to access a variety of texts, from Quran and Hadith to modern newspaper articles and literary texts. The specially designed grammar curriculum, in coordination with the conversation course, gives students both the ability to comprehend a range of basic vocabulary and identify and utilize an increasingly broad array of grammatical structures, setting them firmly on the path for future learning and development of these skills.  
Topics covered: 
Gender
Definition
Demonstratives
Adjectives and Colours
Nominal Sentences
Pronouns and Prepositions
Past Tense Verbs
Present Tense Verbs
The Subject and the Object
Course Requirements: Students are expected to attend the weekly online lectures, complete one or more weekly assignments as assigned by the instructor, and review and sit for a midterm and a final exam.
Registration Fee: Non-refundable, non-transferable
$100.00 (not including the cost of the course materials)
$20.00 late registration fee after September 10th (if seats are available)
Texts: Handouts will be provided throughout the course.
Placement: If you are unsure about your level, email ribaat.arabic@rabata.org to request a placement test. Once you have submitted and tests have been assessed, you will receive a recommendation for the appropriate course for your level.  
For inquiries, contact registration@rabata.org