Course Category: Quran Program ~ Level 1 Elective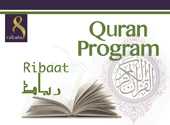 Course Code: QUR 100
Instructor: Anse Arwa Ghabra
Length: 1 term (15 weeks)
Course Dates: Sept. 12 - Dec. 19, 2017
Timings: Tuesdays, 12:00 pm CST/6:00 pm GMT Click here to convert to your own time zone.
Classes last approximately 1.5 hours each. Students will only be able to participate when attending the class live. Recordings of the sessions will be made available for registered students who cannot attend live.
Offered: This course is offered in the Fall and Spring terms of each year.
Prerequisites: 
Students should be women above the age of 17.
ARA 100 or the ability to read Arabic Quranic script
Summary: Students will gain fluency as they practice their Quran recitation in these live online sessions.
Course Requirements: Students are expected to attend and participate in the weekly online sessions. This course is not graded.
Registration Fee: This course is free of charge for students enrolled in the Ribaat Quran Program and the Ribaat Arabic Program.
Text: A medium to large-sized Holy Quran in Arabic for the recitation portion.
Students are responsible for ordering their textbooks before the start of class. Ribaat textbooks are available to enrolled students at a discounted rate through Daybreak Press Global Bookshop. Once enrolled, students will have access to the discount code through the course forum.
For inquiries, contact registration@rabata.org