Course Category: Arabic Course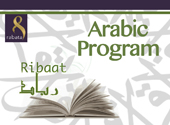 Instructor: Anse Raghad al-Sayyid
Length: 8 weeks
Course Dates: June 28 - August 30, 2018
Timings: Thursdays, 8:00 pm CST/2:00 am GMT Click here to convert to your own time zone.
This class will meet 3 times in a live online session. The remainder of the course will be self-study. Live attendance at the online sessions is highly recommended to achieve full benefit. Recordings of the sessions will be made available, but students who cannot attend live must make arrangements with the instructor to fulfill the necessary coursework.
Offered: This course is a special summer offering.
Prerequisites: 
Students enrolling in the program must be women above the age of 17.

Completion of Arabic Level 2B or equivalent knowledge.

Course Description: 
This course is designed for students of the Arabic Program levels 3 and above. It will provide students the opportunity to hone their Arabic reading, writing, listening, and speaking skills, as well as increase their vocabulary in preparation for the upper levels of the  Arabic program. Students will be assigned 8 units, through which they will proceed at their own pace and their own level. Activities will be provided at different levels to cater to the individual level of each student. Anse Raghad will meet 3 times with students through the course of the summer to touch base and hear presentations. 
Placement: If you are unsure about your level, email ribaat.arabic@rabata.org to request a placement test. Once you have submitted and tests have been assessed, you will receive a recommendation for the appropriate course for your level.  

Course Requirements: Students are expected to attend the 3 online sessions, complete weekly assignments as assigned by the instructor, present on a topic in Arabic, and review and sit for a final assessment. Students will need a minimum of 3 hours of study time each week to complete the course requirements.
Registration Fee: Non-refundable, non-transferable
$100.00 (not including the cost of the course materials)
Text: Materials will be provided throughout the course.
For inquiries, contact registration@rabata.org