Course Category: Arabic Program | Level 4 Course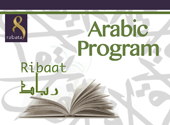 Click here to view a short segment of this course:  Arabic Self Study Part 1 with Anse Raghad al-Sayyid

Course Code: ARA S1B
Instructor: Anse Raghad Alsayd
Length: 1 term (15 weeks)
Course Dates: January 27 - May 5, 2019
Timings: Sundays, 10:30 am CST/4:30 pm GMT Click here to convert to your own time zone.
Classes last approximately 1.5 hours each. Live attendance is not required but recommended whenever possible. Recordings of the sessions will be made available for registered students who cannot attend live.
Offered: Part 1 of this course is offered in the Fall term of each year, and Part 2 is offered in the Spring. Completion of Part 1 is recommended but not required to enroll in Part 2.
Prerequisites: 

Students should be women above the age of 17.

Arabic Conversation Level 3B or equivalent knowledge.

Arabic Grammar Level 3B or equivalent knowledge.
Summary: A continuation of Part 1, this course will continue to provide students the opportunity to hone their Arabic skills in preparation for the upper levels of the Arabic Program. The focus in this course will be on reading, vocabulary, and comprehension of Islamic texts. Activities will be provided at different levels to cater to the needs of students at varying levels. Anse Raghad will meet periodically with students throughout the course to touch base and review.
Course Requirements: Students are expected to attend the weekly online lectures, complete one or more weekly assignments, read the assigned material, and review and sit for a final exam.
Placement:
If you are unsure about your level, email 
ribaat.arabic@rabata.org
 to request a placement test. Once you have submitted and tests have been assessed, you will receive a recommendation for the appropriate course for your level.
Registration Fee: Non-refundable, non-transferable
$100.00 (not including the cost of the course materials)
Text: No textbook is required for this course. Handouts will be provided throughout the term.
For inquiries, contact registration@rabata.org