Course Category: Arabic Program | Level 3 Course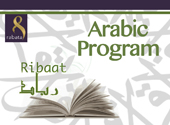 Click here to view a short segment of this level: Arabic Grammar Level 3A with Anse Sana Mohiuddin

Course Code: ARA G3B
Instructor: Ustadha Farzana Chowdhury
Length: 1 term (15 weeks)
Course Dates: January 27 - May 5, 2019
Timings: Sundays, 2:00 pm CST/8:00 pm GMT Click here to convert to your own time zone.
Classes last approximately 1.5 hours each. Live attendance is not required but recommended whenever possible. Recordings of the sessions will be made available for registered students who cannot attend live.
Offered: Part A of this course is offered in the Fall term of each year, and Part B is offered in the Spring. 
Prerequisites: 
Students should be women above the age of 17.

ARA Grammar Level 3A or equivalent knowledge.

Arabic Conversation Level 2B or equivalent knowledge. The two courses may also be taken simultaneously.

Students enrolling in this course should be confident in expressing themselves in Arabic using a wide variety of grammatical forms and should be able to identify these rules in unmarked texts.
Summary: 
This level consolidates the grammatical constructs covered so far and introduces students to the concept of Verb Forms, which constitute the backbone of the Arabic language. Students are taught to identify a number of these forms and manipulate roots to express different meanings in their own writing. This level prepares students to enter the realms of more advanced grammar and the translation of more complex text in future levels.
Topics covered: 
Weak End Roots – Standard Conjugation
Weak Roots in Different Moods
Forms
Forms I, II, III in action
Conditional Sentences- Past
Conditional Sentences – Future
Participles – Active
Participles – Passive
Exceptive Sentences
The Five Nouns
Course Requirements: Students are expected to attend the weekly online lectures, complete one or more weekly assignments, read the assigned material,  and review and sit for a midterm and a final exam.
Placement:
If you are unsure about your level, email 
ribaat.arabic@rabata.org
 to request a placement test. Once you have submitted and tests have been assessed, you will receive a recommendation for the appropriate course for your level.
Registration Fee: Non-refundable, non-transferable
$100.00 (not including the cost of the course materials)
Text: The following reference materials are recommended for use during this course but not required.
Recommended: Arabic-English Dictionary: The Hans Wehr Dictionary of Modern Written Arabic, Ed. J.M. Cowan
Recommended:
Modern Standard Arabic Grammar: A Learner's Guide
, by Mohammad T. Alhawary
Students are responsible for ordering their textbooks before the start of class. Ribaat textbooks are available to enrolled students at a discounted rate through Daybreak Press Global Bookshop. Once enrolled, students will have access to the discount code through the course forum.
For inquiries, contact registration@rabata.org