Course Category: Quran Program | Level 2 Course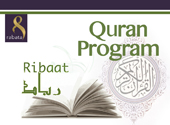 Click here to view a short segment of this course: The Crowning Venture: Quran Memorization with Anse Saadia Mian

Course Code: QUR 301
Instructor: Anse Saadia Mian & a tajwīd teacher
Length: 1 term (15 weeks)
Course Dates: January 22 - April 30, 2019
Timings: Tuesdays, 8:00 pm CST/2:00 am GMT Click here to convert to your own time zone.
Classes last approximately 1 hour each. Live attendance is not required but recommended whenever possible. Recordings of the sessions will be made available for registered students who cannot attend live.
Daylight savings time will go out of effect in the United States on Sunday, March 10, 2019. Depending on where you live, this may or may not affect your class timing. In countries where DST is not applied at all, class will be one hour earlier after March 10th.
Offered: This course is offered in the Fall and Spring terms of each year.
Prerequisites: 

Students should be women above the age of 17.

QUR 201: "Tajwid Part 1: Letters & Phonetics"

QUR 202: "Tajwid Part 2: Rules & the Rhythm of Recitation"

Students enrolling in this course must be able to decode and read Arabic text comfortably (ARA 100, ARA 1A, and ARA 1B). Understanding of Arabic is beneficial but not required. 

Students enrolling in this course must have a firm understanding of the rules of tajwīd.
Summary: 
In the Khitmah Project, students will recite the Holy Quran from Surat al-Fāṭiḥa to Surat al-Nās to their assigned tajwīd instructors, as a preparation and foundation for beginning with memorization. This is a two-part course: 
Students will attend a weekly online session with the instructor to follow up on their progress and learn about the wonders of the Holy Quran. 

Each student will be paired with a certified tajwīd teacher, either online or locally, with whom she will work one-on-one. This part of the course will be complete when the student has read through the Holy Quran from cover to cover with her assigned tajwīd teacher, having demonstrated the ability to apply the rules of tajwīd to the standardized and acceptable level.
Course Requirements: Students are expected to attend the weekly online lectures, read the assigned material, and recite the assigned amount with a Ribaat tajwid teacher.
Placement:
If you are unsure about your level, you may complete an assessment with a tajwīd instructor. Based on that, you will receive a recommendation on the best course for your level inshallah. 
To arrange an appointment, kindly email tajwid.assess@rabata.org with your name, Skype ID, and a brief summary of your background in Quran studies. We will be in touch with you as soon as possible inshallah.
Registration Fee: Non-refundable, non-transferable
$100.00 (not including the cost of the course materials)
Text: 
Excellence in the Science of Tajwīd by Anse Ghada Salahi al-Asbahi

Medium to large sized Holy Quran in Arabic script

The Crowning Venture by Anse Saadia Mian

Students are responsible for ordering their textbooks before the start of class. Ribaat textbooks are available to enrolled students at a discounted rate through Daybreak Press Global Bookshop. Once enrolled, students will have access to the discount code through the course forum.
For inquiries, contact registration@rabata.org