Course Category: Arabic | Level 1 Course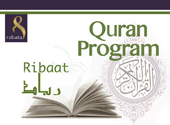 Course Code: QUR 101

Length: 8 weeks

Instructors: Anse Abeer Aborshaed, Anse Asmaa Haloul, Anse Ola Habbab & Anse Serine Sati
Course Dates: June 24 - August 31, 2019
Timings: Saturday, Sunday, Monday, Wednesday, Friday 10:00 am CST / 4:00 pm GMT Click here to convert to your own time zone.
Classes last approximately 1 hour each. Live attendance is highly recommended whenever possible for full benefit as this is a practical course. Recordings of the sessions will be made available for registered students who cannot attend live.
Offered: This course will be offered every term.
Prerequisites: 
Students should be women above the age of 17.

ARA 100 or the ability to read Arabic Quranic script
Summary: This course will provide students an opportunity to put into practice their Quran reading skills. Recitation teachers will be available on the class days to meet with students and will work one-on-one with them to improve their recitation fluency. The focus will be on pronunciation of letters and makharij.
Course Requirements: This is a pass/fail course. To pass, students should be reading fluently and ready for level 2 of the Ribaat Quran program. The class will be held in an Adobeconnect classroom, and students may attend once per week or on all class days, as their schedule permits. 
Placement: If you are unsure about your level, you may complete an assessment with a tajwīd instructor. Based on that, you will receive a recommendation on the best course for your level inshallah. 
To arrange an appointment, kindly email 
tajwid.assess@rabata.org
 with your name, Skype ID, and a brief summary of your background in Quran studies. We will be in touch with you as soon as possible inshallah.
Registration Fee: Non-refundable, non-transferable Students will have access to course forums, recordings, and files until the first day of the next term.
$100.00 (not including the cost of the course materials)
Text: Juzu' 'Amma OR medium to large sized Holy Quran in Arabic script. Recommended: Mus-haf al-Tajwid (Color coded for tajwid)
For inquiries, contact registration@rabata.org