Course Category: Arabic | Intro Level Course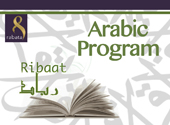 Click here to view a short segment of this course: Introduction to Arabic with Anse Nishat Lal

Course Code: ARA 101
Instructor: Anse Abeer Aborshaed
Length: 8 weeks
Course Dates: June 24 - August 31, 2019
Timings: This course meets twice weekly: Tuesdays & Thursdays, 9:00 am CST/3:00 pm GMT Click here to convert to your own time zone.
Classes last approximately 1 hour each. Live attendance is highly recommended whenever possible. Recordings of the sessions will be made available for registered students who cannot attend live.
Offered: This course is offered every term.
Prerequisites: 
Students should be women above the age of 17.

No previous knowledge of Arabic is needed at this level.

Summary: 
This course provides an introduction to Arabic reading and writing skills and a basic understanding of the language for students who have little or no previous knowledge of Arabic. The course will be divided into two parts: the first focusing on Arabic script and phonetic decoding, and the second part equipping students with the ability to identify fundamental features of Quranic Arabic script and phonology. By the end of the course, students will be able to read fluently, write what they hear proficiently and navigate their way through the Quran independently. They will feel confident in the foundations of the language and will be ready to move on to introductory study of Arabic grammar. The reading skills obtained in this course will also provide a springboard for future learning of tajwīd (the science of Quranic recitation).
Topics covered: 
Arabic Alphabet

Short & Long Vowels

Sukūn

Shadda

Tanwīn

Vocabulary

Permanent & Connecting Hamza

Points of Articulation

Course Requirements: Students are expected to attend the online lectures, complete one or more weekly assignments, read the assigned material, and review and sit for a midterm and a final exam.
Placement:
If you are unsure about your level, email 
ribaat.arabic@rabata.org
 to request a placement test. Once you have submitted and tests have been assessed, you will receive a recommendation for the appropriate course for your level.
Registration Fee: Non-refundable, non-transferable
Students will have access to course forums, recordings, and files until the first day of the next term.

$100.00 (not including the cost of the course materials)
Text: Handouts will be provided with the course, no textbook is needed for this course.
For inquiries, contact registration@rabata.org