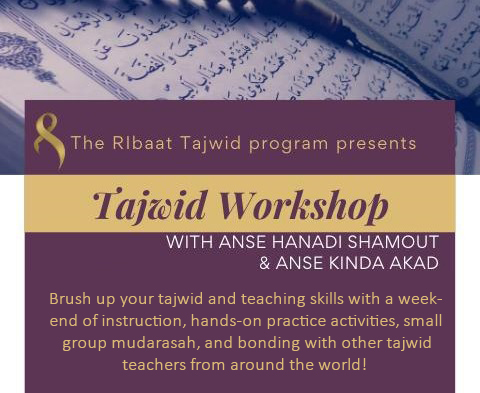 Description: A 2-day Ribaat experience with an exclusive line-up of lectures to fine-tune your tajwid skills and teaching methodology, this course will provide tajwid teachers with a refresher and update on tajwid details and how to help students achieve success in recitation of the Holy Quran.

Instructors: Anse Kinda Akad & Anse Hanadi Shammout
Course Requirements: This is an online course so students will need access to internet. An internet speed of at least 2 Mbps is recommended for best performance. Recordings of the sessions will be made available for registered students until March 2021.
Prerequisites: Students must be certified tajwid teachers who have an ijaza in tajwid
Registration Fee:
Ribaat tajwid teachers: Free of charge
Other tajwid teachers: $100 non transferrable, non refundable