Ribaat is an online academic program that offers courses in Islamic Sciences, Arabic language, and Tajwid of the Holy Quran to women around the world. The program provides Muslim women with a solid foundation through a comprehensive curriculum covering the full range of traditional Islamic Sciences. The aim of the program is to graduate scholars and da'iyas prepared to educate others, as well as to provide independent classes for those not seeking certification.

The language of instruction is English, and students range from 17-80 years of age. The academic year is composed of three terms. The Fall Term spans from mid-September to mid-December, the Spring Term from the last week in January through mid-May, and the Summer Term from June through August. The program is flexible to fit the needs and schedule of each individual student.
Courses are each about 14 weeks long, and meet for a live session once a week. The online session includes audio and video of the instructor, a chat box for live discussion, questions and answers, and share pods to share sound files, images, slides, videos, and any other online content the instructor wishes to use as teaching materials. If the subject matter requires it, audio and video can also be enabled for students. Classes are recorded for students who cannot attend live.  Each course includes a range of assessments including written and practical homework assignments, written reflections, essays, research papers, projects, mid-terms and/or final exams.
Academic Tracks:
The Ribaat academic program is comprised of 13 tracks. Each track covers 4 levels of study in one domain of knowledge. At least one course is offered in each level of every track. Some courses are covered in one term, while others are divided into two or more parts. 
The 13 tracks are Sira, Aqida, Fiqh, Tafsir, Hadith, History, Tazkiya, Social Sciences, Communication, Education, Arabic, Tajwid, and Certification Requirements. 

Tajwid Program:
The Ribaat Tajwid Program enables students to become proficient in recitation of the Holy Quran, with complete understanding and application of the rules of tajwīd. The program takes students from the beginner level to fluency in recitation, and from there onto a journey of memorization of chosen chapters. The end goal is to produce students who are able to read and teach the Holy Quran with proficiency and expertise.
Tajwid courses consist of two components: 
Theory is taught once a week in a group online session, to study the recitation of the Holy Quran, points of articulation, and rules of tajwīd.

Students are also paired with a tajwīd teacher, who they meet for additional sessions and work with - either one-on-one or in small groups - to recite and apply the rules of tajwīd. If a local teacher is not available, they will conduct these sessions online, using Zoom, WhatsApp, Facetime, or other online apps.
Arabic Program:
The Ribaat Arabic Program provides a comprehensive curriculum for non-Arabic speakers designed to give students the tools and ability to comprehend and communicate in the Arabic language. The objectives of the program are:
 To develop students' reading, writing, speaking and listening skills in the Arabic language. 

To develop students' understanding of both vocabulary and grammar to enable them to both utilize and understand these language components. 

To enable them to access meaning from a variety of texts, in particular Islamic liturgical texts, in order to give them confidence and independence in their faith.

 The Arabic Program is comprised of six levels. The first course, "Introduction to Arabic" caters to students who have little or no previous knowledge of Arabic. This introductory course covers the letters and sounds of the Arabic alphabet as well as beginner vocabulary and grammar. After that, the Arabic Program is split into 6 levels, after which students should be able to read, write, and converse in Arabic.
Beginning in Level 1, the Arabic Program is split into three tracks: Grammar, Reading, and Conversation (faṣīḥ Arabic). Students may pursue these tracks simultaneously, or complete one component at a time, as their schedule permits. Each level contains 5 or more courses: Conversation A and B and Grammar A and B, and at least 1 Reading course. Levels A are taught in the Fall of each year, while Levels B are taught in the Spring. It is advisable to move up in the levels at the same pace, as the components are designed to support each other.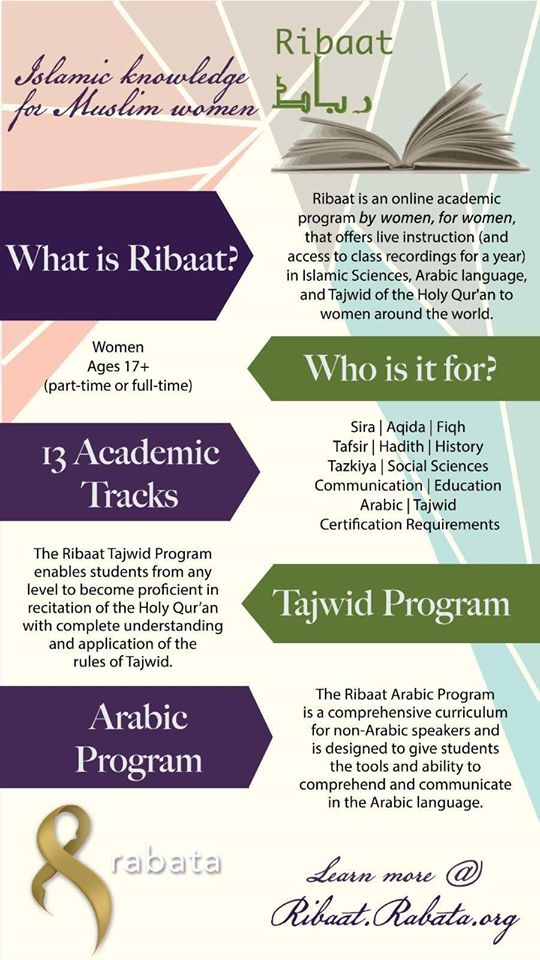 (Edited by Ribaat Administrator - original submission Saturday, March 18, 2017, 7:12 AM)