Ribaat Student Orientation
How it Works...
*To view this orientation without images, please click here.
Welcome to Ribaat, the academic program offered by Rabata.org. We are so excited to have you with us and look forward to sharing in your Islamic academic journey!
Acclimating to an online academic system can be confusing, so this orientation is aimed at giving you a quick tour of our setup and answering as many of your questions as possible. 
When you point your browser to rabata.org/ribaat, you will find yourself on the Ribaat Homepage. Bookmark this page because you'll need it for all your academic activities.
Welcome to campus!
Anyone and their brother can see this page, just like anyone can visit a college quad, but since you're a student, you can enter the buildings!  You do so by clicking "Login" at the top right corner of the page.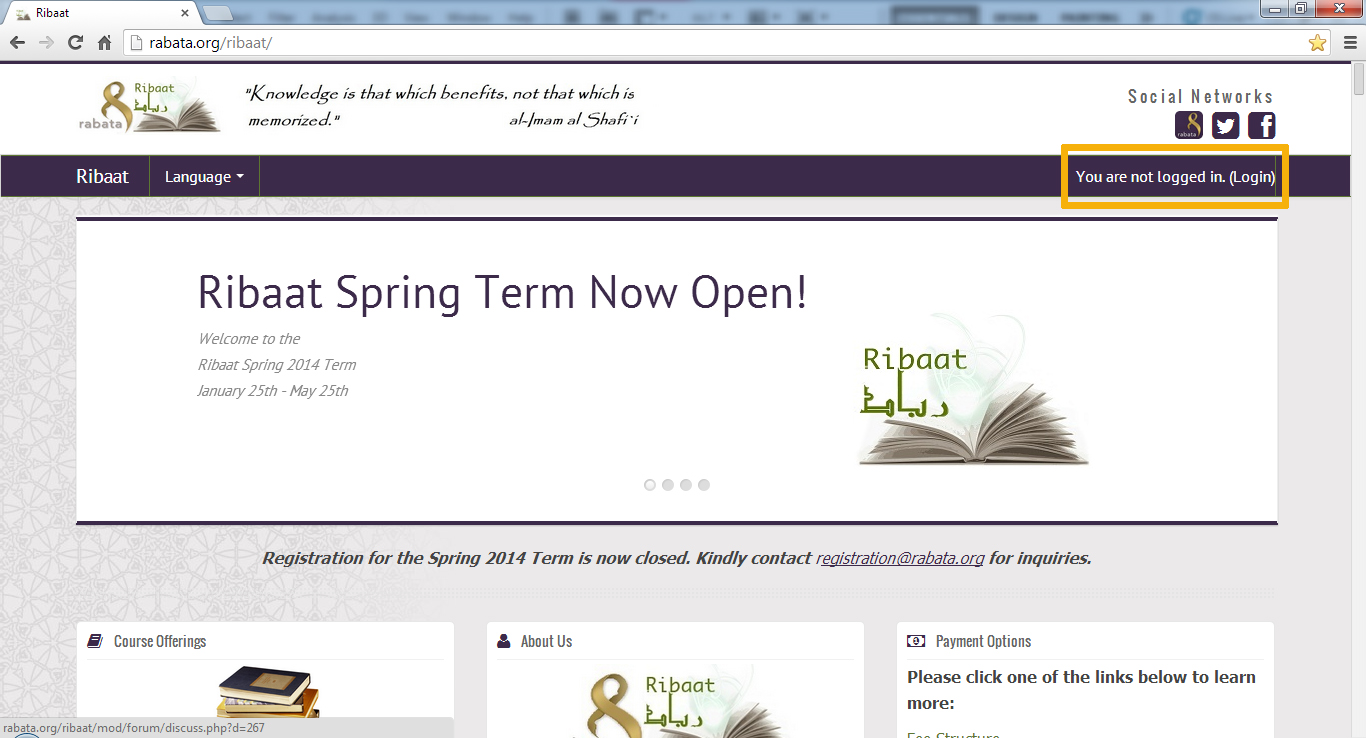 *Ready to log in? If it's your first visit, you can Create a New Account on the right. Otherwise, look left and sign in.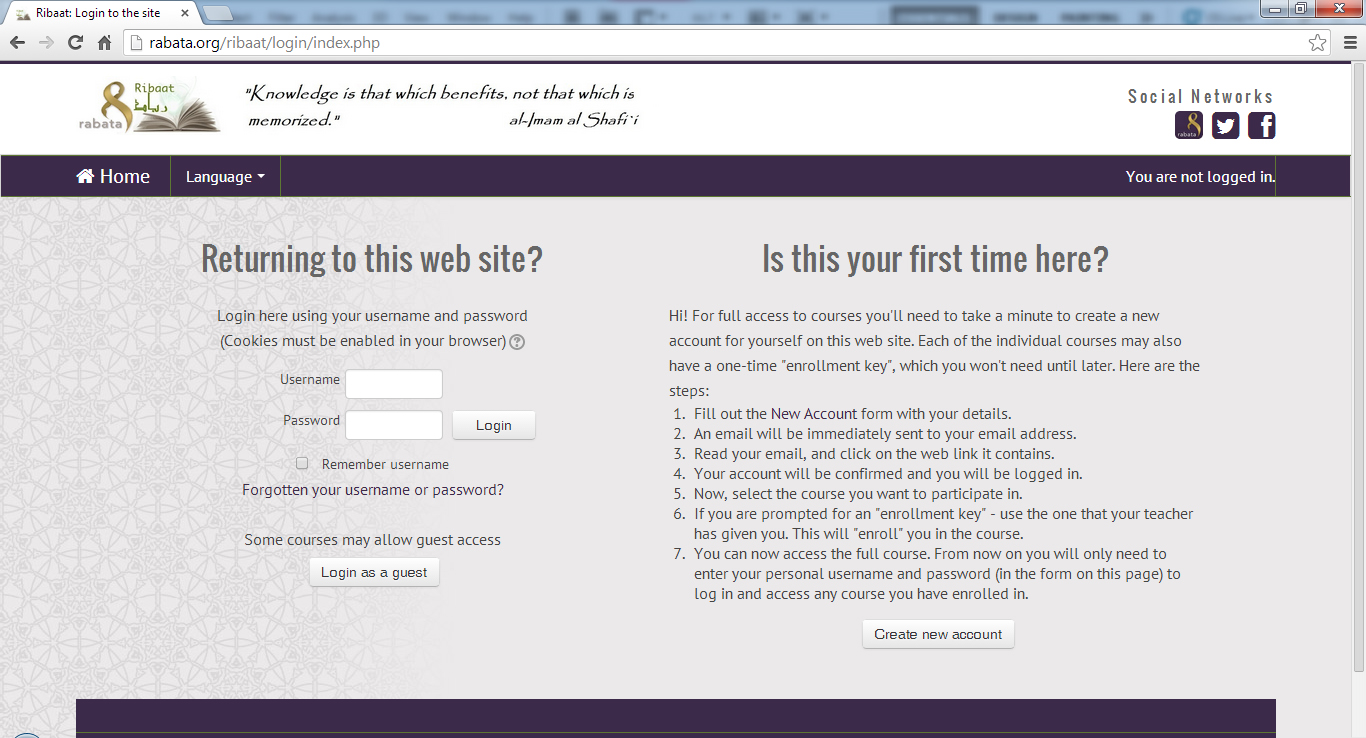 *When you log in for the first time, you will be asked to agree to the Ribaat Code of Conduct. Read the short document and click Yes if you agree.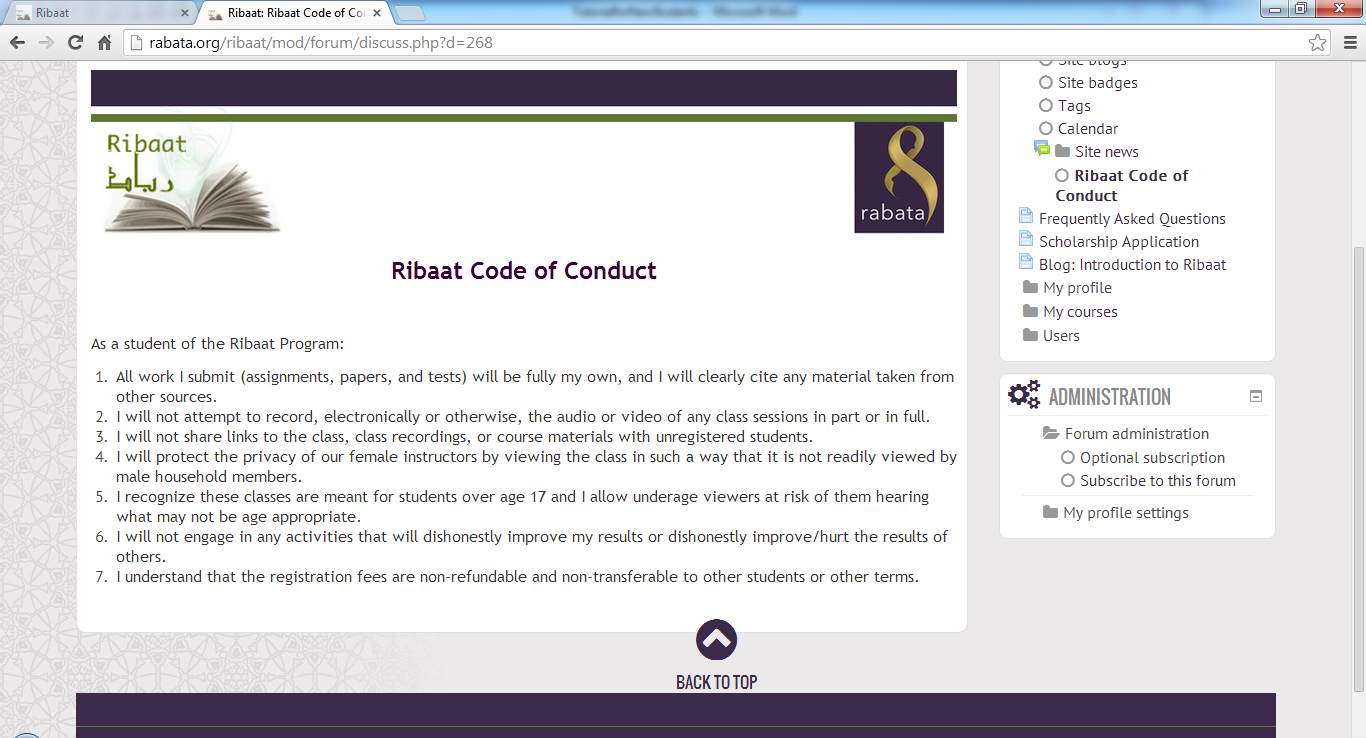 *Once you've signed in, you can enroll in the course of your choice. Browse through the Ribaat Program and take your pick, then click the "Enroll" button.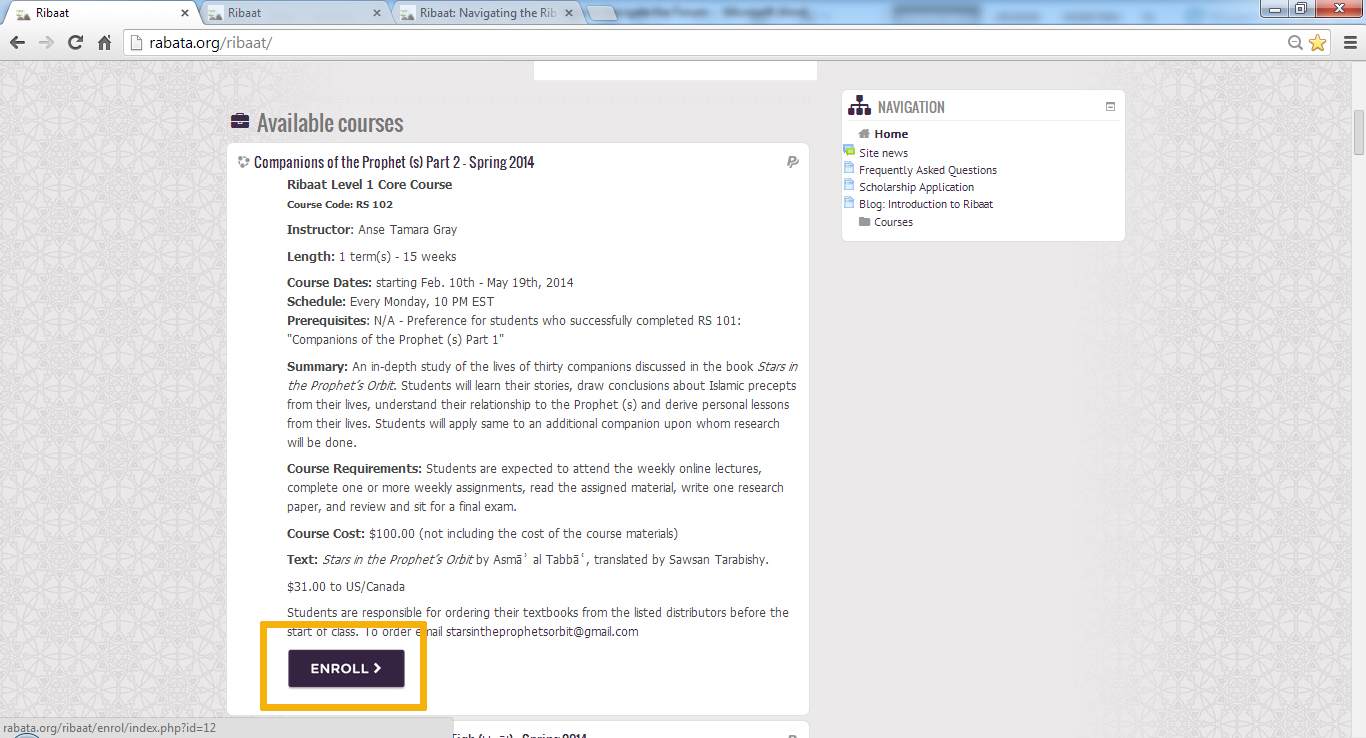 *This will take you to the course page. Scroll down to the bottom and click "Send Payment via PayPal". Other payment options include sending a check or a Western Union transaction. Email registration@rabata.org for more details.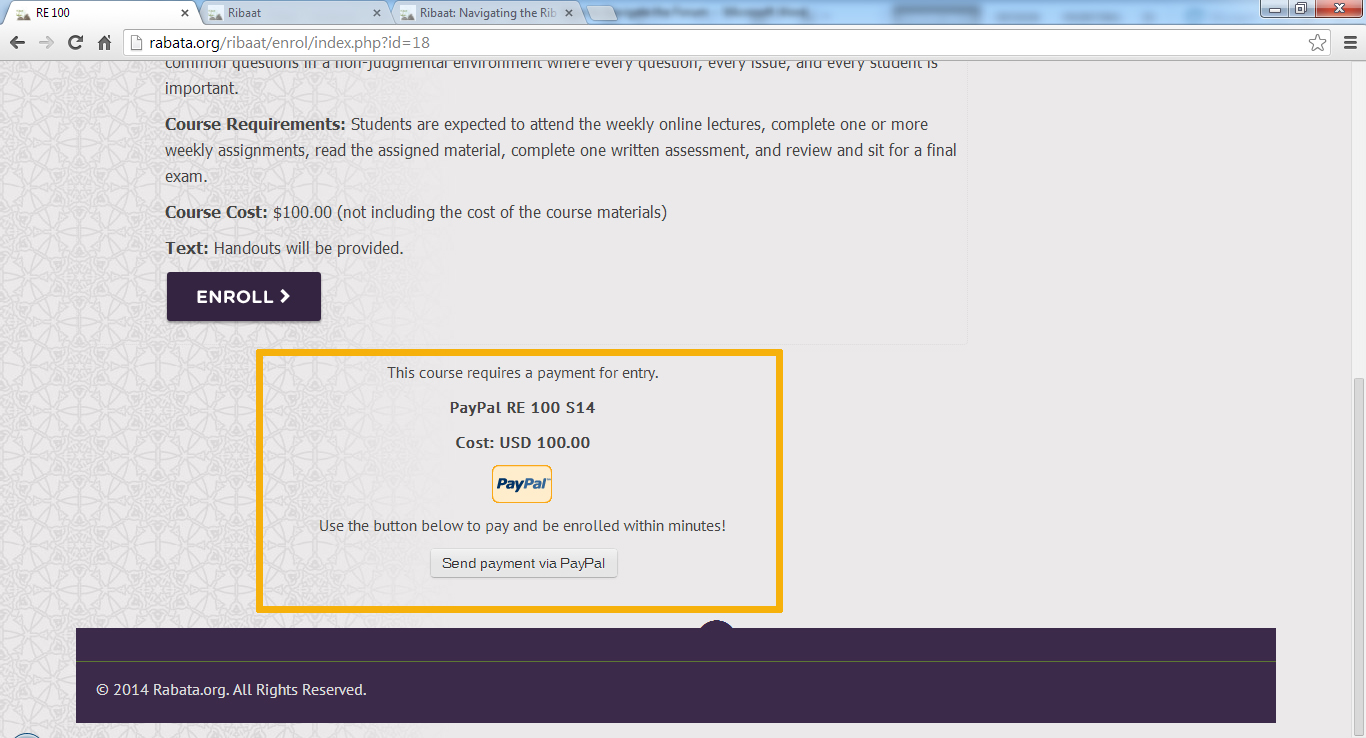 *On the top taskbar of the Homepage you will find a tab labeled "My Courses". This is the path to all the courses you are enrolled in. Click that box and a drop-down menu will appear with your course list. Choose one and let's check it out.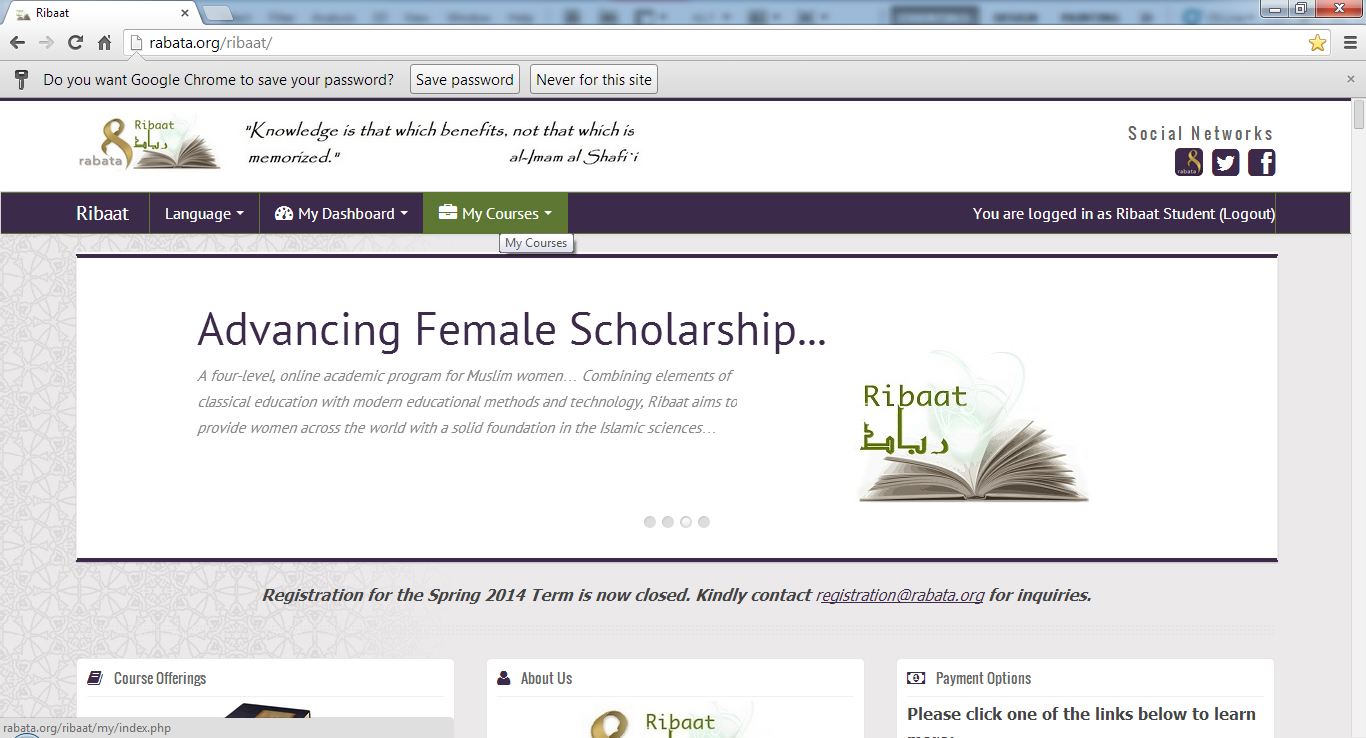 Now you will find yourself in the course forum, the "building" where your course is held.
This building holds a tech support room (the Troubleshooting Forum), a Coffee Shop for chatting with your classmates (the General Forum), and several bulletin boards (on the right) with info about the course. Here you can read about your instructor (at the top), see your syllabus (print it before the beginning of class!), check out your welcome kit, etc.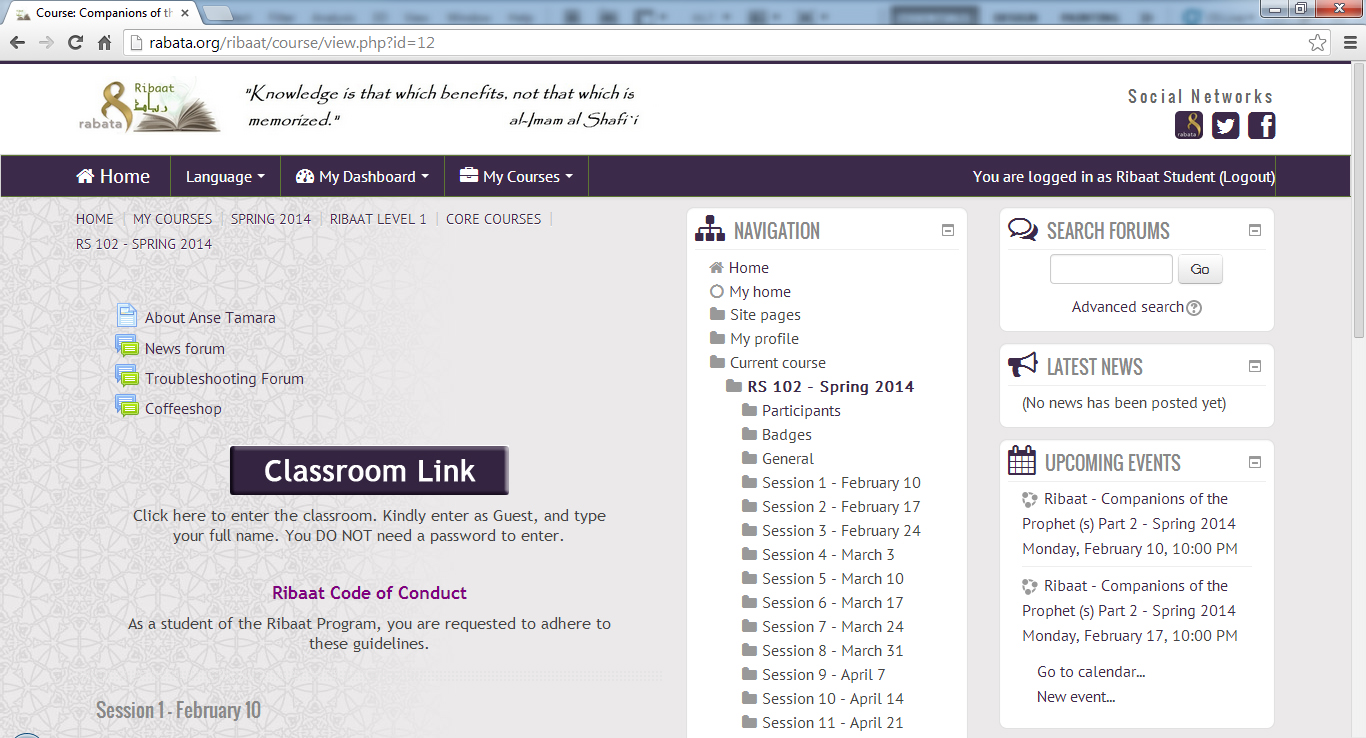 Below that, there is a section for each session that will be filled out as the course goes on. There you will find course handouts, assignments, announcements, schedule changes, etc. If you should ever miss a class, come here and you'll find a link to the video of the class. (Trust me on this, though: attend in person unless you absolutely can't. Thinking, "I can just watch it later," is a slippery slope that leads to the sinking feeling of sliding further and further behind.)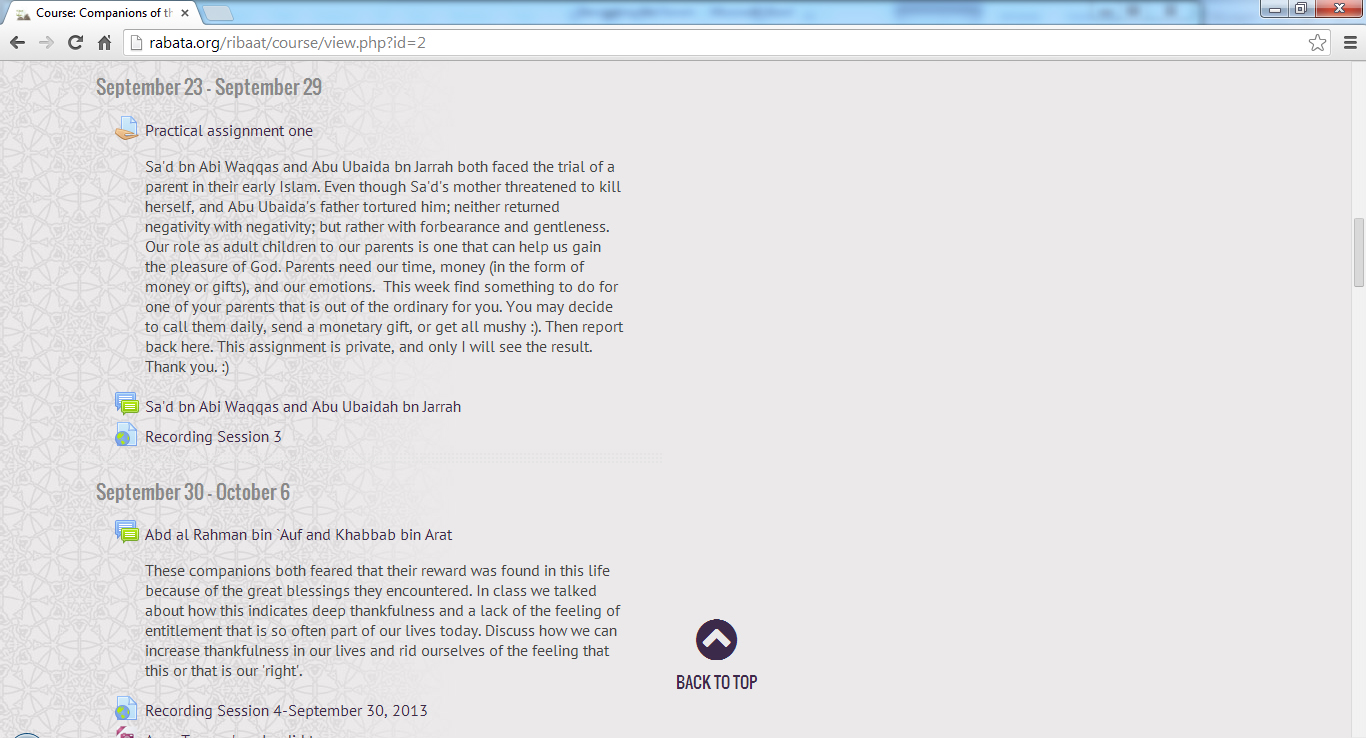 Scroll back up a bit and you'll find the large purple "Classroom Link". Clicking this link will take you to the actual classroom.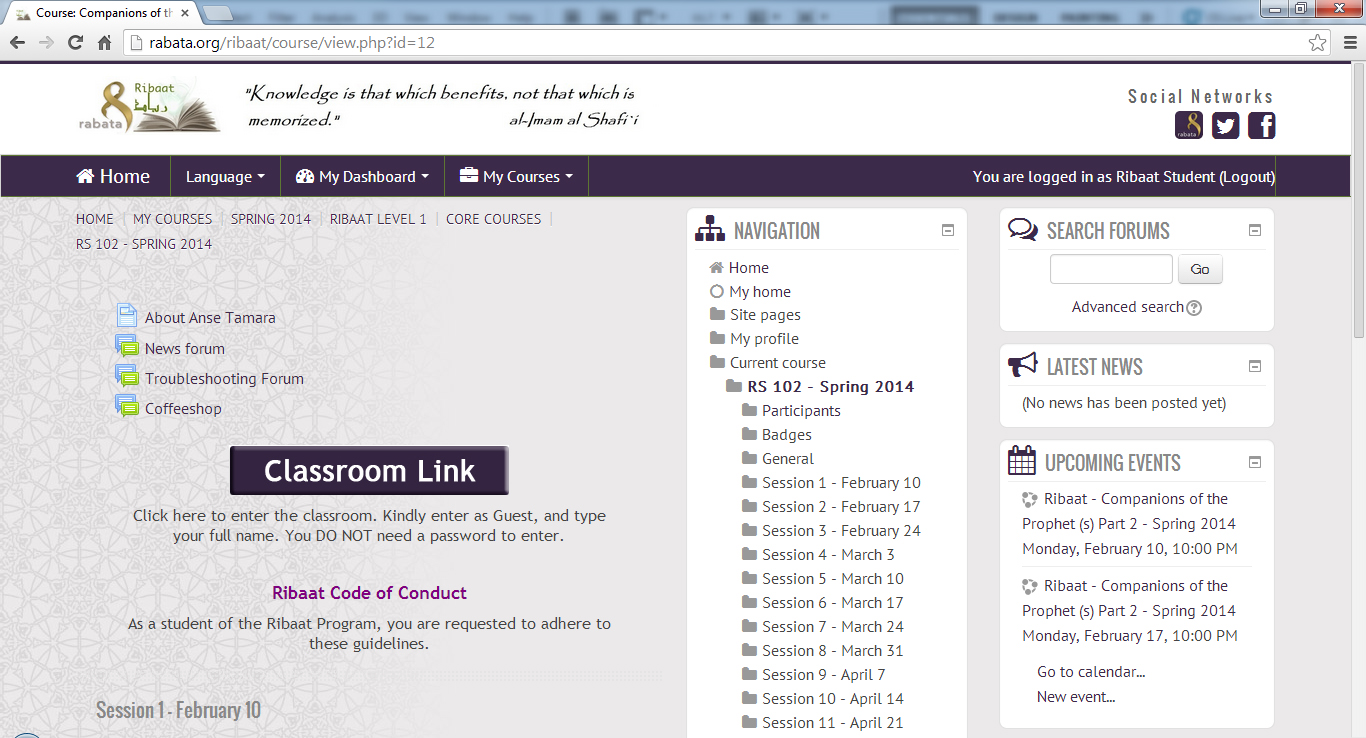 When you click the classroom link you'll have to sign in to the classroom. Consider this step like putting on your nametag so the instructor can call on you and take attendance. Click GUEST, and then sign in with your first and last name. There's no password; we know you're cool.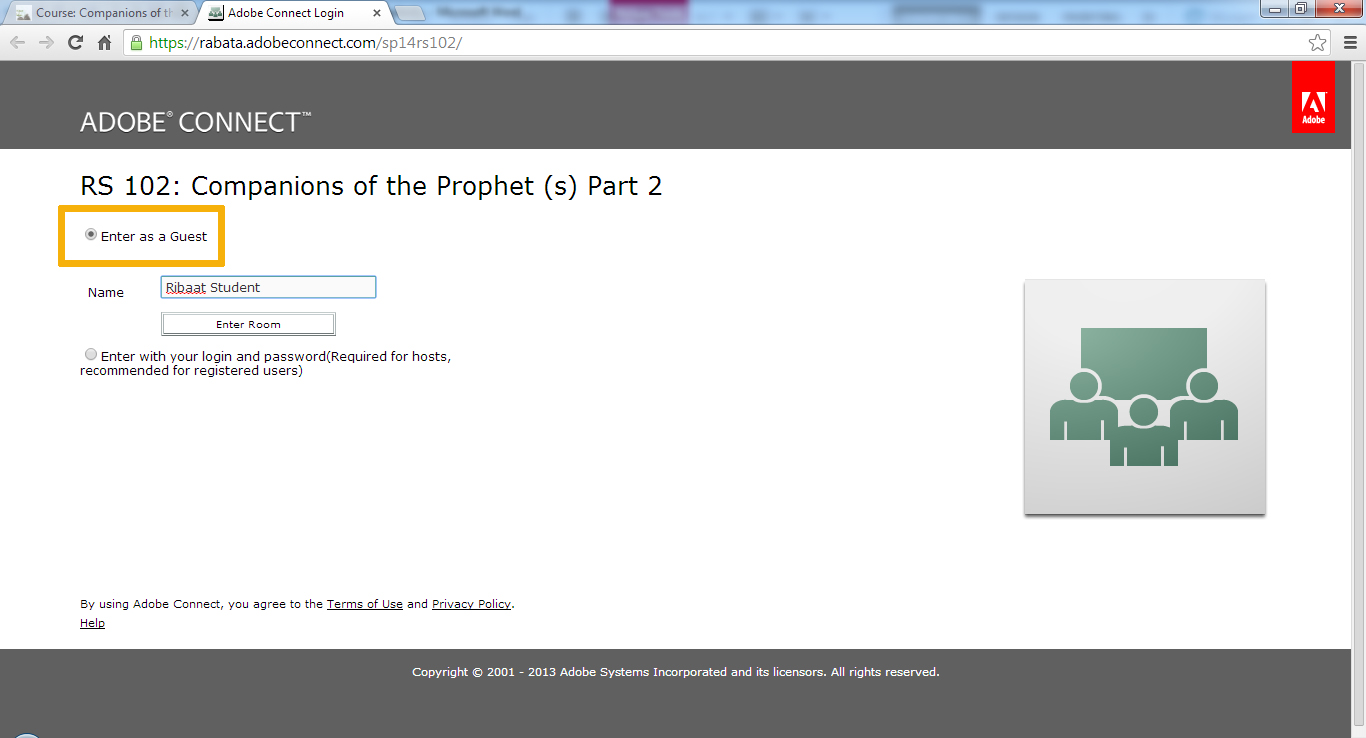 When you enter the classroom, if it's time for class you should see the instructor at the front of the room (Video Panel) and your classmates listed on the left (Attendees Panel). Feel free to visit with them before class starts by chatting in the chat box on the right. Most instructors also use the chat box for taking questions.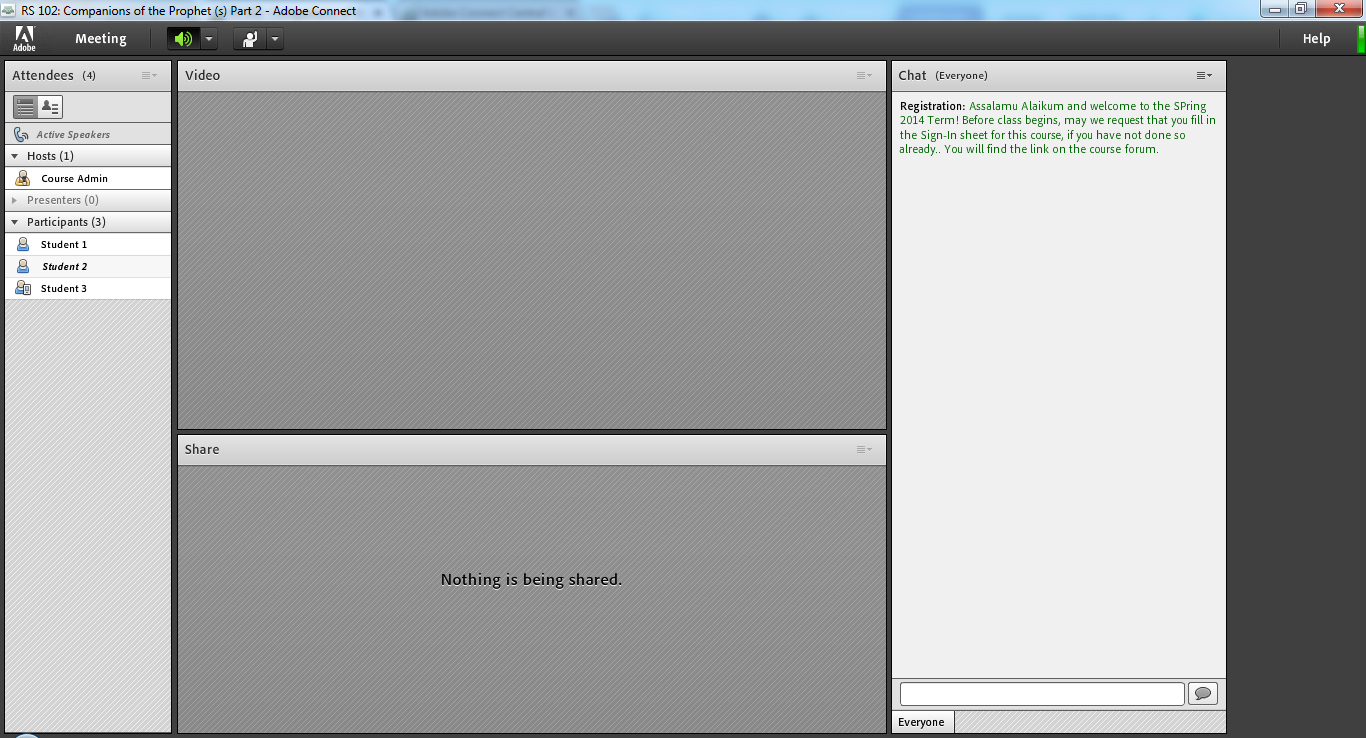 If you'd like to chat privately with the Course Admin or another student, simply click on her name and a "private message" option will open up. If you have any problems with audio or video during class, you can send a private message to the Course Admin and she will assist you.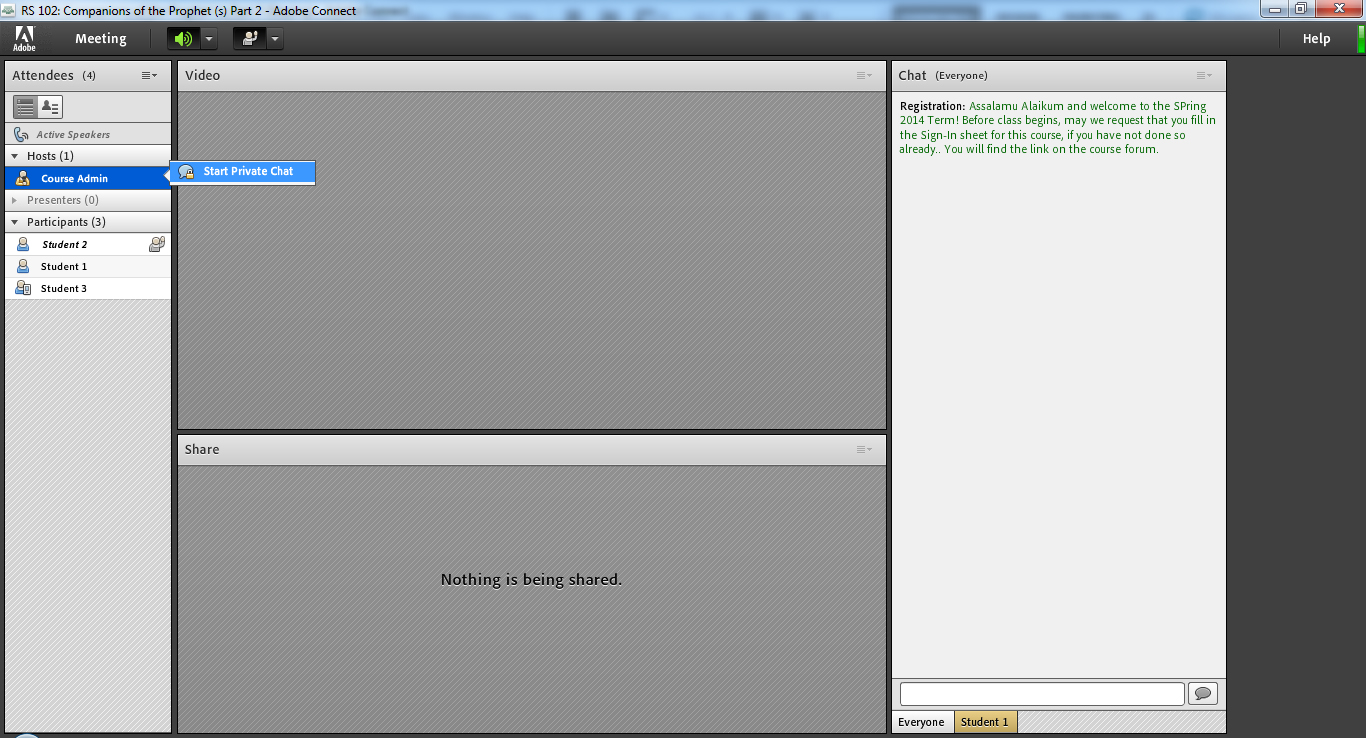 Keep an eye on the area below the chat box. If someone has sent you a private message, it will be highlighted in orange. To avoid interrupting the instructor during class, your Course Admin will use this private chat to assist you with troubleshooting.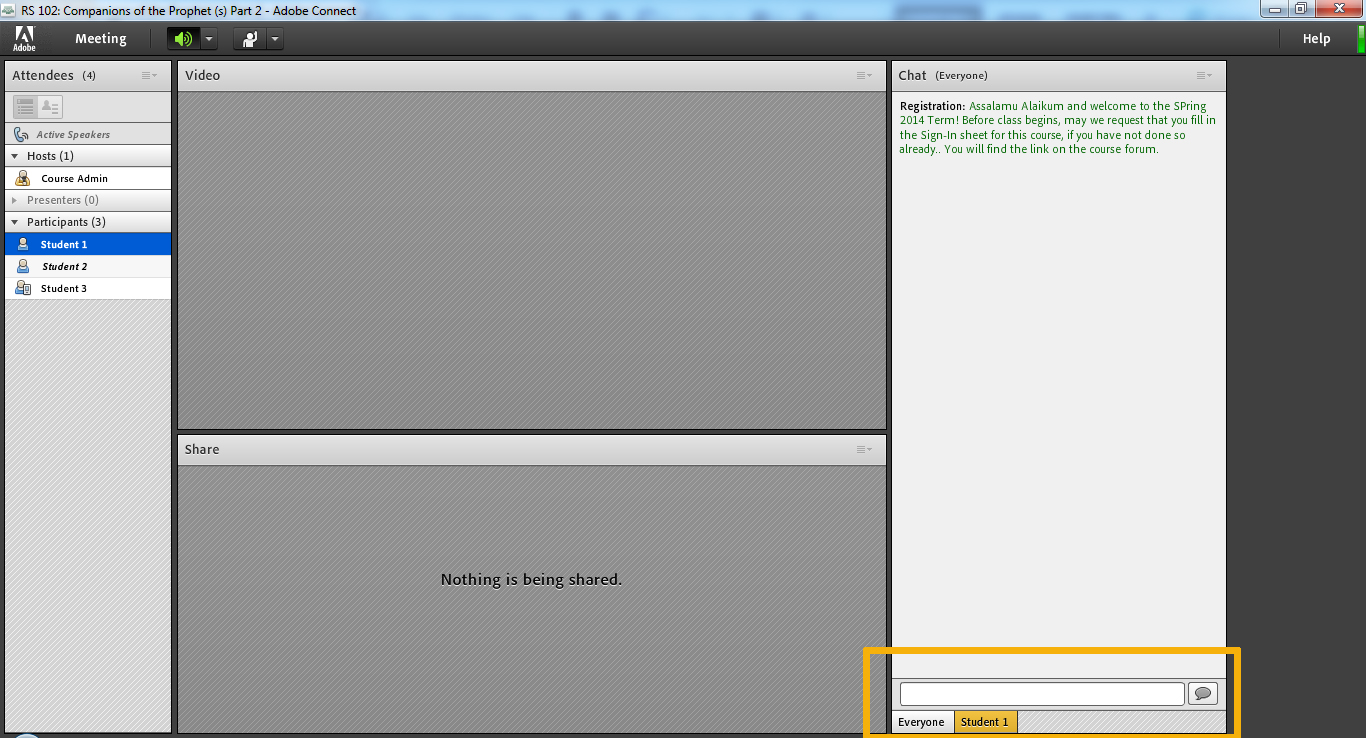 The course admin may request that you type in your full name if you have not done so. To edit your name, click the small icon at the top of the Attendees panel, and click "Edit My Info." Students who have not signed in with their full name will be removed from the classroom.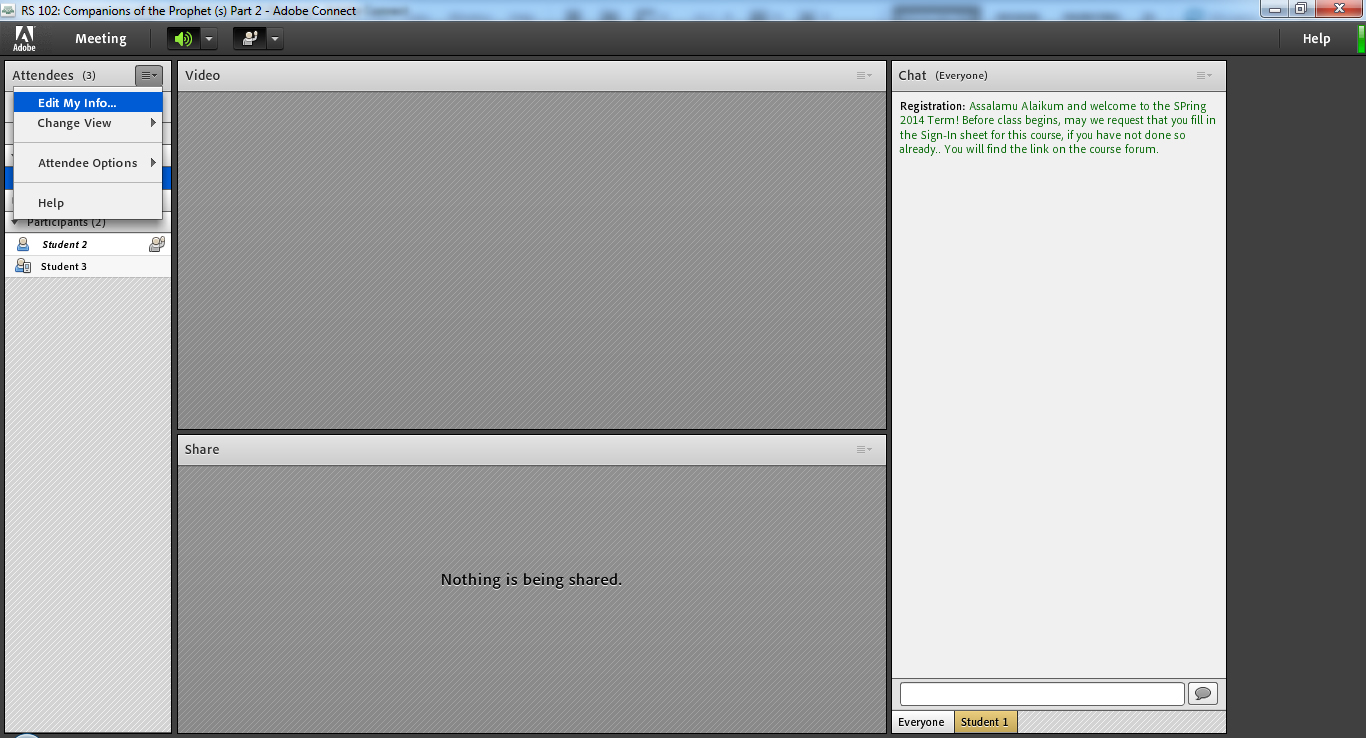 At the top left of your screen you'll find a little guy with his hand raised. Clicking on him raises your hand and the instructor will see that you have a question. Some instructors prefer to keep questions until the end of the session, and others will request that you raise your hand for her to call on you when she is ready to take questions.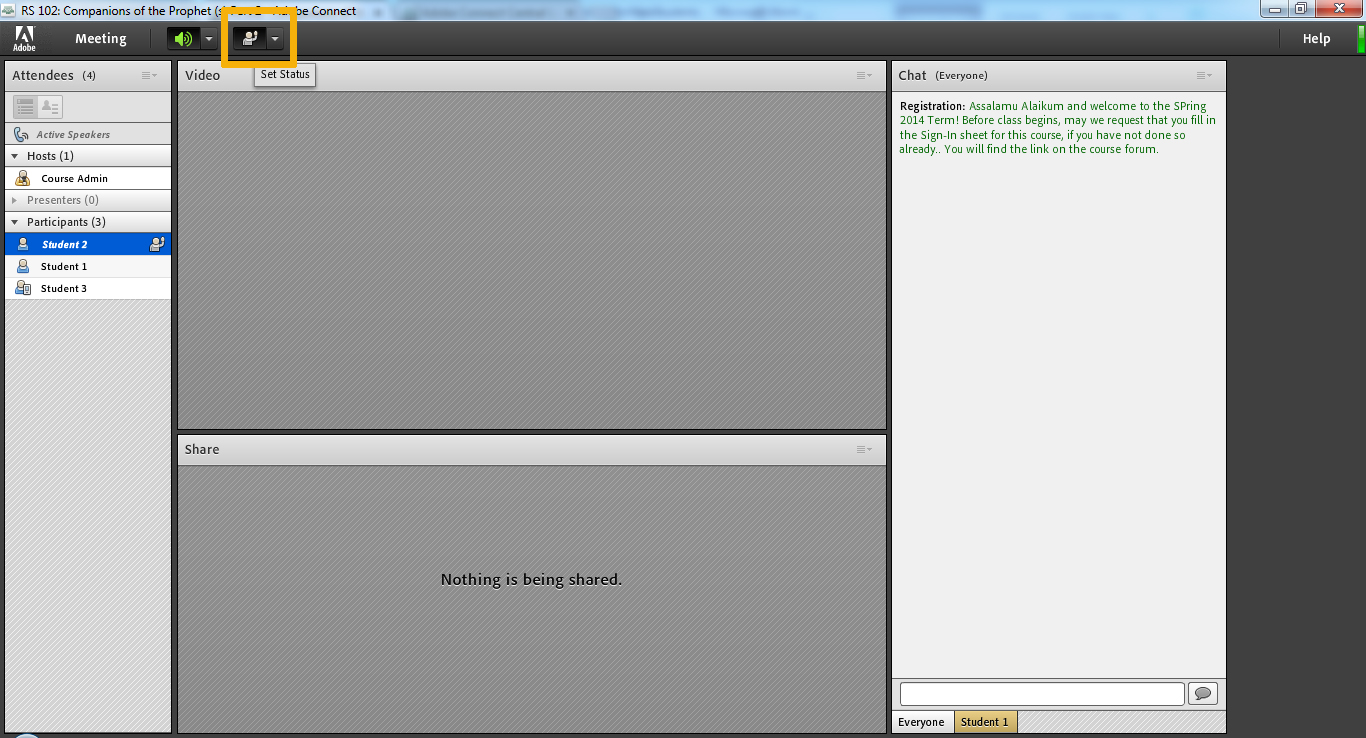 If you click on the little arrow to the right of the raise hand icon, a drop-down box will offer you other options such as "Agree," "Applause," and "Step Away." Making good use of these interaction options helps class run smoothly and lessens interruptions to the flow of the lesson.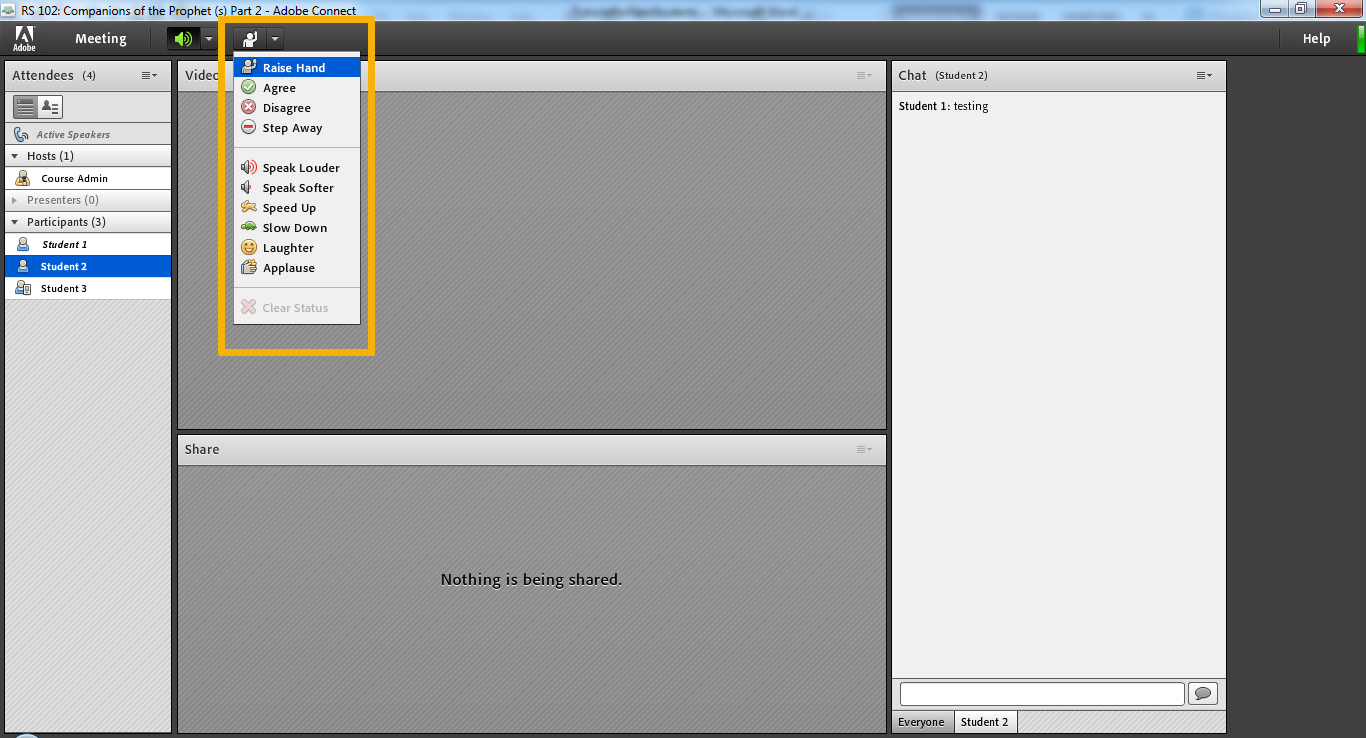 If you have any questions, issues or suggestions throughout your course of studies with Ribaat, you are always welcome to email registration@rabata.org.